Prog Fellowship Position
University of Nebraska
Fellowship Program
Length of Fellowship:
1 year -- EUFAC Accredited Fellowship Position -- We are a EUFAC accredited fellowship and only accept ABEM boarded or eligible candidates. Graduates from our program that are ABEM board certified are eligible to apply for the ABEM Focused Practice Designation for Advanced EM Ultrasonography at the end of fellowship.
Salary:
$150K plus generous benefits
Additional Funds
CME funds
Number of Clinical Hours:
Clinical - 8 Shifts/Month (9 Hour shifts)
Fellowship duties - 10 to 12 shifts/month
Internal moonlighting available
Other Duties
Medical student POCUS Education
Resident POCUS education
Faculty POCUS education
Administrative duties
Number of Sites
The fellow will work at both the Academic center an community hospital ED.
Number of Positions per year:
1
Additional Opportunities
In September 2018 we taught a week long course in Lima, Peru to 16 physicians. In August 2019 we will be taught in Changsha, China. In December 2020 we taught critical care ultrasound remotely again for the group in Changsha, China. We continue to foster international relationships and expect to have international teaching opportunities continued in the future.
Educational Experience
Our program offers a diverse educational experience with fellowship specialty trained faculty. This allows the fellow to gain insight from other emergency medicine experts that will be influential to their long-term career and clinical practice.

We are continually fostering interdepartmental relationships. And supplement education for internal medicine and our tow different family medicine residencies. The fellow is part of this continued interdepartmental education.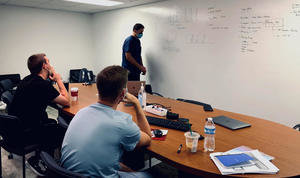 Deadline for fellowship application:
July 1st - October 1st
Fellows chosen:
We participate in the SCUF NRMP match that occurs in November.