Prog Fellowship Position
Rutgers New Jersey Medical School
Fellowship Program
Length of Fellowship:
1 year
Salary:
$108,000
More info on benefits: https://uhr.rutgers.edu/benefits

Additional Funds
CME: $3,000
Number of Clinical Hours:
800
(8-hr shifts)
Other Duties
- Resident and medical student scanning shifts
- Quality assurance of departmental POCUS scans
- Contribution to undergraduate medical education curriculum
- Help moderate bi-monthly residency ultrasound rounds
- Lead monthly medical student Ultrasound Interest Group sessions
- Contribute to original research and/or scholarly activity
Number of Sites
University Hospital in Newark, NJ
Number of Positions per year:
1
Additional Opportunities
- Dr. Alerhand serves as Director for the Israeli Association of Emergency Medicine's (IAEM) Critical Care Ultrasound Workshop in Tel Aviv in March. The fellow is invited to serve as faculty.

- The Emergency Medicine department holds monthly Research Committee meetings. The Fellow is invited to present his design and/or findings to receive feedback and departmental support.

- Dr. Alerhand serves as Editor of the EMdocs.net US Probes section (http://www.emdocs.net/category/ultrasound/). The website receives up to 9,000 views per day. The fellow is invited to submit articles.

- The Director of Business Operations for the Emergency Department, Dr. Anthony Rosania, is directly involved with all aspects of ultrasound billing and revenue.
Educational Experience
- Education is primarily supervised by core faculty of the Ultrasound Division within the Department of Emergency Medicine.

- Other services providing education and resources include:

- Medical Intensive Care: critical care ultrasound with intensivists
- Cardiology: echocardiography case review, TEE practice
- Regional Anesthesia: elective for developing expertise with nerve blocks
- Physical Medicine & Rehabilitation: musculoskeletal ultrasound
Image Review
Weekly QA/QI review with the Emergency Ultrasound Director and Faculty.

Monthly residency ultrasound rounds, similar in format to the above. Between 7-13 residents residents are typically present.

Bi-monthly evening virtual ultrasound rounds

Faculty, fellows, and residents are encouraged to save the medical record numbers of interesting ultrasound scans from their clinical shifts or dedicated scanning time. Other faculty and residents also frequently submit their interesting scans for review.

Quality assurance is facilitated by Q-Path.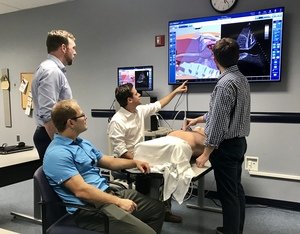 Deadline for fellowship application:
Fellows chosen: