Prog Fellowship Position
Rutgers New Jersey Medical School
Fellowship Program
Length of Fellowship:
1 year
Salary:
$108,000
More info on benefits: https://uhr.rutgers.edu/benefits

Additional Funds
$3,750
Number of Clinical Hours:
800
(8-hr shifts)
Other Duties
- Resident and medical student scanning shifts
- Contribution to undergraduate medical education curriculum
- Help moderate bi-monthly residency ultrasound rounds
- Lead monthly medical student Ultrasound Interest Group sessions
- Design and carry out original research for abstract submission and eventual publication
Number of Sites
University Hospital in Newark, NJ
Number of Positions per year:
1
Additional Opportunities
- Dr. Alerhand serves as Director for the Israeli Association of Emergency Medicine's (IAEM) Critical Care Ultrasound Workshop in Tel Aviv in March. The fellow is invited to serve as faculty.

- The Emergency Medicine department holds monthly Research Committee meetings. The Fellow is invited to present his design and/or findings to receive feedback and departmental support.

- Dr. Alerhand serves as Editor of the EMdocs.net US Probes section (http://www.emdocs.net/category/ultrasound/). The website receives up to 9,000 views per day. The fellow is invited to submit articles.

- The Director of Business Operations for the Emergency Department, Dr. Anthony Rosania, is directly involved with all aspects of ultrasound billing and revenue.
Educational Experience
- Education is primarily supervised by core faculty of the Ultrasound Division within the Department of Emergency Medicine.

- Other services providing education and resources include:

- Medical Intensive Care: critical care ultrasound with intensivists
- Cardiology: echocardiography case review
- Cardiac Anesthesia: trans-esophageal echocardiography in the operating room
- Regional Anesthesia: elective for developing expertise with nerve blocks
- Physical Medicine & Rehabilitation: musculoskeletal ultrasound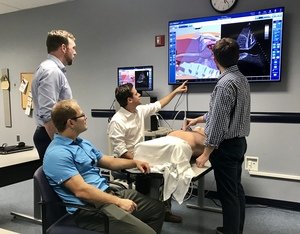 Deadline for fellowship application:
Fellows chosen: