Prog Fellowship Position
University of Vermont Medical Center
Fellowship Program
Length of Fellowship:
1 year
Salary:
2022 salary: $130,671
0.6 clinical FTE divided between UVM Medical Center and CVPH
Medical Center in Plattsburgh, NY.

Additional Funds
$4,800/year CME Funding (medical licensure, textbooks, professional society dues, journals, and attendance at educational conferences.)
Research Funding
Shared ultrasound office

Number of Clinical Hours:
8-9 clinical shifts per month
Network moonlighting opportunities available


Other Duties
1,000+ scans during fellowship year
Weekly QA/QI and resident scan sessions
Monthly case review during residency didactics
Faculty, resident, medical student, and EMS education Workflow, QA/QI, image management
Credentialing, billing, reimbursement
Research project mentorship and implementation
Current literature Review & journal clubs
National and international conferences
Global health conferences and teaching opportunities
Number of Sites
University of Vermont Medical Center
Champlain Valley Physicians Hospital
Central Vermont Medical Center
Porter Medical Center
Elizabethtown/Ticonderoga Medical Centers
Alice-Hyde Medical Center


Number of Positions per year:
2
Additional Opportunities
Regional image QA/QI with affiliate sites
Teleguidance sessions
Global Health
Educational Experience
Advanced ultrasound applications
Active TEE program



Image Review
Ultrasound faculty and the Fellow are assigned specific resident mentees. We are responsible for their QA as well as providing individualized feedback. We review images together in-person and over zoom (to include our remote sites) weekly on SonoTuesday.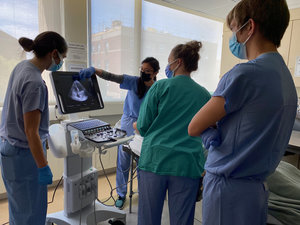 Deadline for fellowship application:
October 15th
Fellows chosen:
Ultrasound Fellowship Match Day 2022: November 16th