Prog Fellowship Position
George Washington University
Fellowship Program
Length of Fellowship:
1 year One Family Medicine Ultrasound Fellowship Position Two Emergency Medicine Ultrasound Fellowship Position
Salary:
$105,000
Additional Funds
$2500 CME funds plus potential funding of travel costs for international teaching if interested
Number of Clinical Hours:
18 hrs/week
Other Duties
The fellow will be involved in resident and student education, both in giving lectures at resident conference as well as assisting with hands-on scanning in the emergency department during scanning shifts.
Number of Sites
George Washington University Hospital
Washington Veteran's Affairs Hospital
United Medical Center
Number of Positions per year:
2
Additional Opportunities
The fellow(s) will have abundant teaching opportunities, both locally as well as opportunities to travel domestically and internationally to educational programs in emergency ultrasound.

International teaching experiences throughout our training partnerships in India are encouraged and typically come with funding for travel and housing. Our fellows have been teaching in India for over 10 years, and it is a great opportunity for those interested.
Educational Experience
The vast majority of scanning time is spent in the emergency department, with the exception of a highly regarded echocardiography rotation (scanning with techs/cardiology fellows as well as reading with attendings) and a rotation with the vascular lab.

We also have a primary role in critical care fellow education, and as a result our fellows scan on a regular basis in the ICU.

Finally, we have a very close collaboration with Children's National Health System and the 5 PEM US fellowship-trained faculty there, and the PEM US and EUS fellows scan together at both GW and Children's. Journal club is combined with Children's and has a dedicated pediatric component each month.
Image Review
Image review is a crucial part of life in the ultrasound sections, both for quality assurance as well as education. Every clinical image from GWU Hospital as well as all fellow's images from any hospital are reviewed weekly by the section.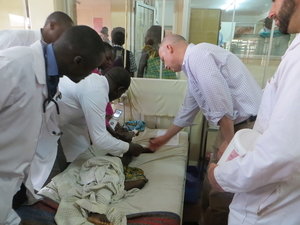 Deadline for fellowship application:
Fellows chosen: