Program Extra
Denver Health Medical Center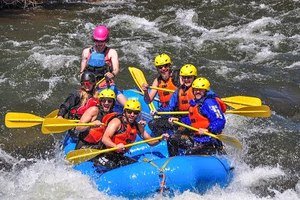 Welcome to the Denver Health emergency ultrasound fellowship website!

The ultrasound fellowship at Denver Health is a one-year curriculum designed to train leaders in emergency ultrasound. The fellowship is built on the foundation of over 20 years of clinical excellence in bedside ultrasound use, research and educational publications related to emergency ultrasound, and a faculty that is dedicated to the principle that ultrasound is integral to every emergency physician's clinical practice.

In the following pages you will find aspects of the Denver Health program that are unique, including:

-A long tradition of graduating fellows who direct emergency ultrasound programs or fellowships and who have exceptional academic careers;

-A rich clinical sonography experience at a busy emergency department in a Level 1 trauma center with a same-site pediatric emergency department that carries a Level 2 pediatric trauma designation;

-Exposure and participation in multiple ultrasound education programs including:
*University of Colorado School of Medicine Longitudinal Ultrasound Curriculum
*Rocky Vista University Longitudinal Ultrasound Curriculum
*Pediatric Emergency Medicine Ultrasound Curriculum
*Surgical Critical Care Fellowship Ultrasound Curriculum
*Emergency Medicine Residency Ultrasound Curriculum

-A highly collaborative environment with other local fellowship programs including Wilderness Medicine, EMS, and Global Health.

Thank you for your interest in our program. We are happy to answer any questions you may have about our program.